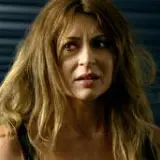 The Walking Dead webisodes are back for their second year as we enter the two week countdown to the Season 3 premiere.
In last year's webisodes, the short story focused on the "Bicycle Girl" zombie seen in the series premiere. Rick eventually puts this zombie out of her misery, but the webisode offered some back story to who this person was before her ultimate demise.
In the new webisode 'Cold Storage,' a man named Chase (Josh Stewart) who is looking for his lost sister finds refuge from zombies in a large storage facility. There he meets BJ (Daniel Roebuck, Lost), a former employee with some dark secrets that are bound to come out.
As with the Bicycle Girl webisode, 'Cold Storage' is developed, produced and directed by The Walking Dead special effects head honcho Greg Nicotero. Watch each of the webisodes in sequential order below.
'Cold Storage' Webisode Part 1: Hide and Seek
'Cold Storage' Webisode Part 2: Keys to the Kingdom
'Cold Storage' Webisode Part 3: The Chosen Ones
'Cold Storage' Webisode Part 4: Parting Shots