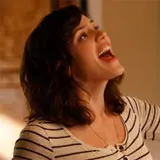 NBC could use a big hit not plucked from reality television and tonight's Smash pilot premiere starring Katharine McPhee, Anjelica Huston and Debra Messing gives the studio a great shot at hitting the right chord.
Smash revolves around a group of well-off folks lead by Debra Messing who come together with the common goal of creating a Broadway musical based on the life of Marilyn Monroe. They'll need just the right Marilyn to pull it off, so cue numerous attractive young ladies – including former American Idol runner-up Katharine McPhee – to fight tooth and nail for the opportunity.
With some steamy scenes and adults rather than high schoolers, Smash has already been labeled as Glee for adults. NBC would rather their scripted musical stand on its own merit, but it's hard not to draw comparisons when the new kid on the block is only the second kid willing to step foot on said block.
Smash would be boring if the Broadway musical got off the ground without a hitch so expect many obstacles and roadblocks as things slowly come together. Or they may not come together at all, but that wouldn't make the show much of a "smash," would it.
The idea for Smash originated from Steven Spielberg, the man whose name stands behind many other shows currently on television including Falling Skies on TNT. Renowned playwright Theresa Rebeck actually penned the screenplay so don't shy away thinking the show doesn't know what it's doing. If anything, Smash is right on target with depicting the behind-the-scenes struggles of putting together a Broadway musical.
Watch the Smash pilot series premiere below as well as check out some additional images from the episode. Check it out tonight on NBC at 10pm EST/9 central if you want to watch it up on the big screen.