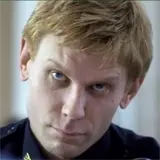 Syfy wants to make everyone has a chance to catch up with their U.S. version of Being Human so they've gone ahead and published the first three episodes in their entirety online.
The three episodes are the premiere There Goes the Neighborhood Part 1, There Goes the Neighborhood Part 2 and Something to Watch Over Me. Be sure to watch them in order or else you'll be somewhat lost as to what's going on.
Being Human is the story of a vampire, a werewolf and a ghost living in a Boston brownstone. None particularly want their supernatural "condition" and are constantly struggling to fit into a human world. It stars Sam Witwer, Meaghan Rath, Sam Huntington, Sarah Allen, Gianpaolo Venuta and Lost's Mark Pellegrino.
The next episode, 'Wouldn't It Be Nice,' premieres exclusively on Syfy tonight at 9/8c. Watch a preview clip in which Josh reluctantly befriends another werewolf and Aidan tries to help Rebecca below. Head over to Syfy to watch the first 3 episodes.