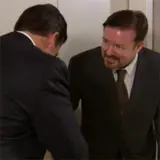 Ricky Gervais' cameo appearance as David Brent on 'The Office' is this evening and NBC chose to share the entire encounter before the show airs.
In the roughly one-minute clip, Steve Carell's Michael Scott bumps into Brent at an elevator. Michael makes fun of Brent's English accent and what is likely a funny improvised exchange of jokes ensues.
As the encounter wraps up following a hug, David asked Michael where he works. Michael responds "Dunder Mifflin," to which David asks "Do you have any jobs going?" Michael answers with "No, not right now" and the exchange is complete.
You can either write that off as a tease of what's to come or 'The Office' gang tugging our strings.