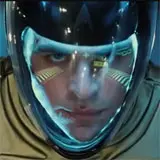 Paramount's third trailer for J.J. Abrams' Star Trek Into Darkness dispenses with character and plot to focus solely on the film's many action sequences and extensive use of visual effects.
There's a brief shot of Benedict Cumberbatch as villain John Harrison, but for the most part the trailer checks in on Captain Kirk (Chris Pine) and his crew as they try to diffuse a volcano, rocket through space in suits, send the Enterprise into warp speed, jump off a cliff, and crash the Enterprise into the waters adjacent to San Francisco.
I want to draw attention to a new action scene we haven't seen before that debuts in this trailer. In the scene, Kirk, Spock (Zachary Quinto), Uhura (Zoe Saldana) and possibly other Enterprise crew members are piloting a small shuttle craft of some sort that may or may not be Federation. They are being chased by another ship that is hard to make out but could possibly be Klingon, through what could be a structure or city on the Klingon home world.
Kirk and his crew shake their attacker by barely squeezing through an opening, much to Spock's chagrin. This scene brought back memories of Star Wars Attack of the Clones when Anakin and Obi-Wan chased a bounty hunter through the city of Coruscant in futuristic cars. Swap in Star Wars characters and I think we have a good idea of what the J.J. Abrams treatment of Star Wars Episode VII will be like.
Star Trek into Darkness beams into theaters on May 17, 2013.