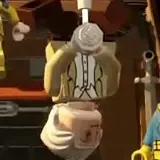 Comic creator icon Stan Lee is packing his own brand of heat – literally – in a new trailer for Lego Marvel Super Heroes, the latest bricked video game adventure from TT Games and follow up to last year's insanely fun Lego DC Super Heroes.
As was revealed a couple months ago, Stan Lee will be a playable Lego figure in Lego Marvel Super Heroes and is voiced by Stan himself, though you will probably have to unlock him in the game's free play mode before taking him for a spin. Since all the other superheroes in the game have powers defined by their comic book incarnations, what powers can Stan Lee possibly have? The answer is many.
To say Stan is ready for battle would be a gross understatement. TT Games have made sure the father of many of these characters is "well endowed" from a superhero perspective so he can go toe-to-toe with Marvel's finest. Stan can shoot Spider-Man's webs. He can turn into a Hulk version of himself. Cyclops in the way? No problem; Stan can blast him with his own heat vision. He can stretch like Mister Fantastic and move objects with his mind. And even indestructible Wolverine will feel like he's fighting himself as Stan is fortified by an adamantium skeleton.
Lego Marvel Super Heroes is coming to every conceivable gaming platform under the sun on October 22, including the upcoming Xbox One and PlayStation 4 in November.
Pre-order Lego Marvel Super Heroes at Amazon and earn a $10 credit and free shipping for doing so.