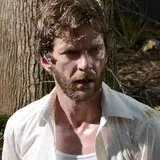 ABC's Resurrection didn't bring anyone back from the dead last week, but it did reveal a new mystery in Arcadia and revved up tension between the show's main players in different ways.
Resurrection held up well in its second week and avoided the massive drop off from a big premiere that some new shows experience. Having Once Upon a Time as a lead-in certainly helps, as does presenting a mystery that is structured well enough to keep viewers coming back to see what happens next.
Last week's episode revolved around Bellamy's desire to crack open Jacob's tomb and test the young boy's 32-year old remains against the new Jacob that has mysteriously returned. Getting into the tomb faced multiple roadblocks including Jacob's dad, who did not want to revisit old demons, and Sheriff Fred Langston doesn't want his wife's remains disturbed, since we learn she's in the tomb as well.
Jacob's mom is convinced that the boy is actually her son and tries to integrate him back in with the other kids. The other moms are unsure about the new boy and collect their kids to leave when Jacob starts playing with them in a park. Life for Jacob has been pretty lonely since his return, save for his mom wanting to spend every waking moment with him.
We learn Caleb Richards died of a heart attack before he mysteriously returned in the pilot. His son isn't convinced the man who returned is his father, while Caleb's daughter and wife seem immediately convinced. Because Caleb's son is skeptical, he decides to follow Caleb to a cabin where we learn that Caleb buried something and then attacks someone about that buried thing.
The episode ends with Bellamy getting the necessary legal authority to open Jacob's tomb despite Sheriff Fred trying to ship him. If previews for tonight's episode are any indication, another deceased resident of Arcadia is about to return from the dead.
Resurrection Season 1, Episode 3 'Two Rivers' premieres tonight at 9/8c following Once Upon A Time on ABC. Check local listings in your town to find the ABC channel number to watch Resurrection HD tonight on TV.
You can also watch Resurrection online free live streaming by using your cable or satellite provider login at the official ABC website here. Another option is to access the Watch ABC app on phones, iPads, computers and other devices to watch Resurrection live streaming on any Internet connected mobile device.