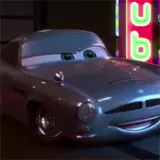 The second teaser trailer for Pixar and Disney's Cars 2 was delivered today and brings with it plenty of international racing, Mater causing trouble and some very irritated and aggressive spies.
The trailer introduces Sir Michael Caine as Finn McMissile, a British secret agent who gets tangled up in a spy plot with Mater. Lightning McQueen is also along for the ride, though his primary focus is on winning the World Grand Prix and distinction of becoming the fastest car on the planet. A whole gaggle of cocky international racers will have something to say about that.
Watch Mater and Lightning on the run in the second Cars 2 teaser trailer complete with transforming logo below. You can watch the first trailer here.