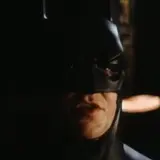 Warner's new The Dark Knight Trilogy Ultimate Collector's Edition Blu-ray is set to hit stores this week on Tuesday, September 24, and one of the all-new bonus features that will be included on it has been released online.
The bonus feature sneak peek includes a look at Christian Bale's original screen test for Batman Begins with commentary by director Christopher Nolan. Bale brings the gruff voice from the finished film into the audition, and Nolan immediately latches onto it. Some of the lines delivered are almost identical to the final film, and Bale's delivery is nearly identical as well.
Bale is sporting Val Kilmer's Bat Suit from Batman Forever and playing opposite Amy Adams as Rachel Dawes. Adams eventually lost the part to Katie Holmes, and Maggie Gyllenhaal took it over for The Dark Knight.
Check out or purchase the impressive The Dark Knight Trilogy Ultimate Collector's Edition for a discounted price with free shipping at Amazon.com.