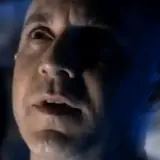 Syfy has released the first two approximately 11-minute episode of Battlestar Galactica: Blood and Chrome via Machinima's Prime YouTube channel. You can watch both of them streaming below.
The first two episodes of Syfy's prequel pilot not ordered to series introduces William Adama (Luke Pasqualino), an ensign and hotshot Viper pilot assigned to the Battlestar Galactica. Upon arrival he meets up with the ship's admiral and is sent on a "milk run" in an old beat up Raptor ship with a substance abusing co-pilot and unexpected female civilian passenger. As Adama quickly discovers, there is more to their orders than meets the eye.
Luke Pasqualino may not be a spitting image of Edward James Olmos, the elder Adama and eventual Galactica commander. He does carries himself well as a pilot with a big head, thus earning the call sign "Husker" that will eventually be printed on the side of his Viper.
These first two episodes of Blood and Chrome offer some insight to what we can expect in the unrated Blu-ray and DVD, due on February 19, 2013. There is a "shit" censored out, and a mixed-sex shower scene that probably has some nudity removed for the web presentation.
The third episode of Battlestar Galactica: Blood and Chrome premieres a week from today on Friday, November 16. Be sure to watch these first two as many times are you possibly can. There's always a slim outside chance that Syfy will reconsider and order up some new material.