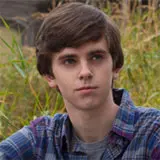 A&E's new Bates Motel drama series had me at "from the creators of Lost and Friday Night Lights," never mind the fact that it has been designed as a contemporary prequel to Alfred Hitchcock's Psycho. Online stream link is at the bottom of this post.
In Bates Motel, Norman (Freddie Highmore) is in his teenage years and his mother Norma (Vera Farmiga) has just lost her husband. In order to start a new life together, the pair move to the coastal town of White Pine Bay and purchase the motel that will eventually bear the iconic family name.
The series explores the events and circumstances that led to Norman Bates becoming the man who he is in Psycho, a man whose relationship with his mother borderlines on "inappropriate." Though it's set in modern times, there's plenty of nostalgia at play as well including Norman's look and the old motel.
With Cuse's involvement, Bates Motel also promises its fair share of mysteries and cryptic clues as violence and strange happenings erupt around the infamous motel. "Creepy" is a word that has come up often in early reviews, and the violent nature of the show is why it's airing late at night. If you're sensitive to rape and murder then the series premiere of Bates Motel is not for you.
A&E has been extremely bullish about the Bates Motel premise that they bypassed a pilot and ordered up 10 episodes right off the bat. The first season will run uninterrupted on Monday nights into May.
Bates Motel episode 1 'First You Dream, Then You Die' premieres tonight at 10/9c on A&E in high definition. There is no official free live streaming option to watch, but it is expected that the Bates Motel series premiere will be available to stream at the official site and/or Hulu in the very near future, especially since the first six minutes were already shared. I will update this post when it's online and ready to watch.
Update: As expected, A&E has made the first full episode of Bates Motel available via free online streaming right here. Be sure to give it a look.