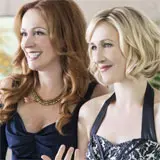 A&E's Bates Motel wasted little time wrapping up the vengeful Bradley arc as actress Nicola Peltz dyed her hair and caught a bus to go play with Transformers on the other side of the country.
In all seriousness, Peltz left the production of Bates Motel to join Michael Bay's sequel Transformers: Age of Extinction as the female lead. As such, her character Bradley's brief two-episode Season 2 arc came to a conclusion last week and all indications are she won't be returning any time soon, if ever.
After murdering Gil, the man whom had murdered her father, Bradley sought out Norman's help and he in turn sheltered her in his mother's basement. As the town sought the missing teen, Norman managed to keep her safe and out of danger while Zane, the man replacing Gil, seeks out revenge against Gil's killer.
Dylan quickly learns that he may be in over his head when Zane arrives to replace Gil and immediately kills a man from a rival drug outfit to send a message. Zane thinks that Gil was killed by a competitor and has no idea that Bradley did the deed. With Bradley gone he may never know.
The night Bradley is to leave town, Norman accompanies Norma to a play audition that is running late. Instead of ditching his mom to send Bradley off, he sends Dylan instead, choosing to be by his mother's side when she needs his comfort. It pays off as Vera Farmiga delivers a stunning audition.
The official A&E synopsis for tonight's new episode of Bates Motel as follows oddly mentions nothing about Norma's brother, Caleb, the namesake for tonight's episode that showed up in the final moments last week, "Norma meets an ally in her battle to stop the bypass. Emma's memorial for a friend leads to a new relationship. Norman falls under the influence of a townie girl."
Bates Motel Season 2, Episode 3 'Caleb' will premiere tonight at the new later start time of 10/9c on A&E. If you have A&E in your satellite or cable package then you can find out what channel A&E is where you live in the local listings to watch Bates Motel HD on your TV.
The official A&E website offers the complete Bates Motel most recent episode within a couple days after it first airs on TV, uncut and free with no login. An immediate way to watch Bates Motel online streaming is by visiting to Amazon.com here where the episode will be available shortly after it airs to watch on phones, tablets, iPads, iPhones, computers and more. Each episode is $2.99 for HD versions and $1.99 for standard definition, including all past episodes of Bates Motel dating back to the series premiere.