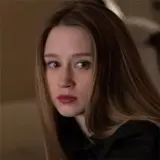 FX's American Horror Story will cast its final spell tonight with the season finale episode titled 'The Seven Wonders.' This AHS finale will bring closure to the big question that has lingered on throughout the entire season: who is the new Supreme? Whoever she is will rise and take control of the coven when we watch American Horror Story: Coven online free live streaming on FX or VOD tonight. Spoilers for the previous episode follow from this point forward.
To recap the penultimate episode 'Go to Hell,' Madame LaLaurie has overcome her head being lopped off thanks to voodoo doll extraordinaire Queenie. She's not quite the same as before, of course. Queenie is leading her around on a leash of all things, and now LaLaurie is able to keep on ticking even after a silver bullet strikes her in the head.
With Nan dead, Zoe and Kyle set out to determine who might have killed her using a spell and a warm bath. Faces appear in the bath, Marie and Fiona, so they deduce that the pair are guilty. Though Madison enters the bathroom and witnesses this, she immediately thinks they're about to jump into the tub together. Kyle even says he loves Zoe, to which Madison promises to rip him apart once she's Supreme.
The bigger lingering problem are the witch hunters, and Marie and Fiona arrange a meeting with them in hopes of drawing up a truce that will keep any more witches from being offed. After the witch hunters present a 100-year truce that Marie and Fiona don't agree to, the Axe Man comes in and starts chopping up all the witch hunters, leaving the leader for Fiona to kill herself. Watch American Horror Story: Coven online live streaming free on FX tonight to see how Fiona reacts to a new Supreme, if she survives.
A gross scene last week saw Cordelia go to extremes in order for her visions to return. She gouges out her eyeballs and even destroys the eye Mrytle provided as a gift. With her real eyesight gone, Cordelia feels her power are now at full strength and she can appropriate protect the coven from witch hunters and any other threat that may arise.
The Laveau and Fiona team-up doesn't last long as LaLaurie drugs Laveau with Benadryl and then she and Spaulding beat her until she topples down the stairs. Given how easily characters seem to return in AHS: Coven after they have died, I highly doubt Laveau will be down for the count in the season finale.
FX is trying to keep spoilers out of the wild for tonight's AHS: Coven season finale as evidenced by the vague official synopsis, "A new Supreme rises." If I had to guess who the new Supreme on AHS: Coven might be, I'd pick just about anyone except Zoe since she seems like the obvious choice.
Tonight's American Horror Story: Coven season finale, episode 13 'The Seven Wonders' will premiere tonight at 10/9c exclusively on FX. Check your local listings to find out what channel number FX is where you live in order to watch the AHS season finale in HD on your TV.
If you have FX in your cable or satellite package then you can watch American Horror Story: Coven online live streaming free here at the official FX video-on-demand website. An option to watch tonight's AHS episode online streaming, as well as past episodes, is to stream American Horror Story: Coven episodes at Amazon.com in either standard definition or high definition.
A fourth season of American Horror Story has already been ordered by FX and will premiere this upcoming October on FX.