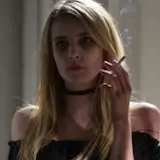 FX's American Horror Story: Coven dipped into the past against last week to tell the tale of a deceased psychopath called The Axeman. This ghoulish freak turned out to be more informational than a threat, but he point Zoe and the girls in the right direction to discover what became of Madison. Watch American Horror Story: Coven online stream episode 7 'The Dead' by following the links presented below, but be weary of spoilers from this point forward.
The Axeman was a big deal back in 1919 when he terrorized New Orleans and threatened to kill anyone that didn't listen to jazz. Millie and the school's students didn't quite appreciate the warning so they lure him to the school with blaring opera music and end up taking turns stabbing him. The murder traps The Axeman's spirit in the school where it waits to be discovered over a century later.
In present day, Zoe and her friends discover some clues in Madison's belongings suggesting that the witches in the school are slowly dying off. They decide to use a Ouija board after some drinks and end up crossing paths with the spirit of The Axeman. They don't know who he is at the time and Queenie is quick to cut off communication before the contact can go on long enough for names to be revealed.
Zoe, Nan and Queenie end up researching The Axeman on the Internet and discover that he's bad news. Zoe doesn't care and wants to contact The Axeman and ask him about Madison. Nan and Queenie disagree, so Zoe waits until she's alone and does it anyway, then is rewarded for her risk by The Axeman telling her to look in the attic. There she finds the corpse of Madison and quickly pulls in Nan and Queenie to help interrogate the man who confessed to the crime but hasn't convinced Zoe that he's telling the truth.
Cordelia returns home from the hospital with Fiona and Hank to discover that although she's now blind, she can now experience visions from anyone she touches. This is bad news for Hank when a vision reveals that he murdered a woman. Fiona quickly turns on Hank and throws him out.
Fiona has her own skeletons in the closet and one comes out when Cordelia touches her. In this vision Cordelia sees Myrtle burning at the stake. Before Cordelia can turn on her mom, Fiona is quick to blame Myrtle for her daughter's acid attack and seemingly manages to stay on Cordelia's good side, at least for now.
The official synopsis for tonight's new American Horror Story: Coven reads as follows, "Fiona finds new purpose in a dangerous love affair. A night out with LaLaurie leads Queenie to question her place in the Coven. Cordelia makes a fateful decision about her mother."
Tonight's American Horror Story: Coven new episode 7 'The Dead' premieres exclusively on FX in pretty high definition at 10/9c. FX offers free online streaming versions of each American Horror Story episode the day after they air at the official FX video on demand (VOD) streaming website here for a limited time that can be viewed on a computer, mobile phone, tablet/iPad or any Internet enabled and connected device. It's the next best thing to watching American Horror Story: Coven online free streaming live.
Amazon.com additionally offers standard or high definition versions of each newly aired episode of American Horror Story: Coven bright and early the following morning after they air from here. The cost to stream HD high definition episodes is $3 and $2 for standard definition. Online streaming is also available for all past episodes of FX's American Horror Story: Coven.