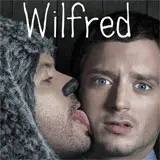 Fox has passed along a deleted scene from the recently released bizarre and unconventional FX comedy Wilfred: Season 1 Blu-ray.
In the clip, Ryan (Elijah Wood) is told by his mother's doctor and caretaker that not only is she not dying, but she is ready to leave the facility she has called home for 20 years and move back in with her son. Ryan's reaction is fairly calm considering the implications of such an event. In Wilfred fashion, there's a jelly bean joke running throughout the scene.
Have a look at the deleted Wilfred: Season 1 clip off the new Blu-ray and DVD release below. You can pick up Wilfred: Season 1 on Blu-ray for a discounted price right now at Amazon.com.