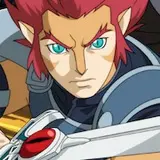 Later this month the new Thundercats animated television show will debut on the Cartoon Network. Lion-O, Cheetara, Panthro, Mumm-ra and even (a muted) Snarf will return in the reboot for all new adventures.
The new Thundercats animation style from WBA and Studio4°C draws heavily from the original show, but also simplifies the design lines to match the modern Japanese anime style. It seems to pay enough homage to the old while simultaneously speak to new younger audiences, a key demographic if the show is to sustain for longer than a single season.
The Thundercats one-hour series premiere will kick off a story that traces young Prince Lion-O's ascension to the throne. It is set for July 29 exclusively on Cartoon Network. Be sure to set your DVR.