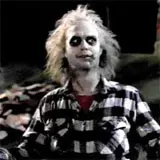 It would appear Blu-ray fans said "Beetlejuice" twice and not three times.
Warner Home Video has announced the arrival of the underworld's emcee on a 20th anniversary edition Blu-ray Disc has been pushed back from September 16 to October 7. The companion DVD edition is still scheduled for September 16.
We caught wind of this probable delay a few days ago when HDR newshound SpideyBat received an email from Amazon.com stating the street date change. No other source could confirm it under today's official announcement.
To recap, Warner is presented Beetlejuice in newly remastered widescreen 1.85:1 1080p video and 5.1 Dolby TrueHD audio.
For a 20th anniversary edition supplemental features are rather sparse. All that's included are three cartoon episodes: A-Ha, Skeletons In The Closet and Spooky Boo-tique; and a Blu-ray exclusive CD Sampler disc in 5.1 Dolby Digital audio with the following tracks.
1. Main Titles (Elfman Geffen)
2. The Family"/Sand Worm Planet (Elfman Geffen)
3. The Aftermath (Elfman Geffen)
4. Showtime! (Elfman Geffen)
5. The Banana Boat Song (Belafonte Sony BMG)
6. End Credits (Elfman Geffen)
Beetlejuice on Blu-ray will carry an SRP of $34.99.
Click here to pre-order Beetlejuice on Blu-ray at a discounted price from Amazon.com.