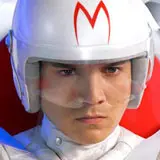 Warner Home Video has announced the blockbuster blunder Speed Racer hopes to cross the finish line when its released September 16 on Blu-ray Disc, day-and-date with DVD.
The Wachowski's brothers' re-imagining of the classic television cartoon was met with a critical backlash and paltry box office returns of $43.5 million to-date, a far cry from its estimated $120 million production budget.
No additional Speed Racer Blu-ray information has been released by the studio but you can bet this will be one stunning looking disc. The highly stylized and color world created by the Wachowski's combined with 1080p video is the recipe for high definition brilliance.
Speed Racer on Blu-ray will carry an SRP of $35.99. Check back regularly for high resolution cover art, full disc specs and pre-order information.