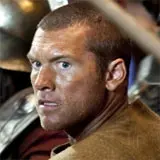 Warner Home Video is entering the standalone Blu-ray 3D market in a big way with 6 titles on November 16, more than doubling the number that will be available in stores at that time.
The catalog films Warner will offer on Blu-ray 3D as standalone titles are Clash of the Titans (2010), The Polar Express, IMAX Deep Sea 3D, IMAX Under the Sea 3D and IMAX Space Station 3D. The sixth film, Cats & Dogs: The Revenge of Kitty Galore, will join Disney's A Christmas Carol as the first day-and-date Blu-ray and Blu-ray 3D debut. The IMAX films had previously been available as exclusives in Sony and LG Blu-ray 3D bundles.
All of the new Warner Blu-ray 3D titles will include 2D versions on the same disc per Blu-ray 3D standards.
Earlier today Sony announced its third standalone Blu-ray 3D title, Open Season, would arrive in stores on November 16. Image Entertainment has already announced the trio of IMAX: Grand Canyon Adventure – River at Risk, IMAX: Wild Ocean and Dinosaurs Alive! are coming to Blu-ray 3D on November 2.
Source: Home Media Magazine