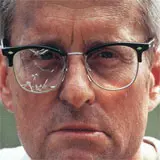 Warner doesn't want to be the "bad guy" by churning out a rehashed version of Falling Down on Blu-ray Disc so they've come through with a few new features to keep fans of the man against the world drama.
New details released today confirm the May 26 debut of Falling Down on Blu-ray Disc (a separate DVD edition will also be available day-and-date) will include a pair of new bonus features: a newly recorded commentary by Michael Douglas and director Joel Schumacher, and a conversation with Michael Douglas entitled Deconstructing D-FENS.
No additional special features are planned to be pressed on the disc but the Digi-book package will include "over 30 pages of filmmaker and talent bios, a discussion of the film, an examination of the bad guy, photos, and more."
Warner has set a retail price of $34.99 for Falling Down on Blu-ray. Check out a sneak peek of the Digi-book package below and check back regularly for Amazon.com pre-order information and pricing.