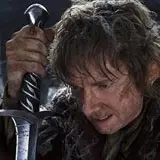 Warner Home Video stirred up a lot of excitement when they released an abbreviated 2013 calendar in support of the studio's 90th anniversary and, in doing so, confirmed the existence of an extended edition of Peter Jackson's The Hobbit: An Unexpected Journey that would be coming out next fall. Or did they?
On Friday, Warner Home Video's Vice President Publicity and Promotion, Theatrical Catalog, Ronnie Sass issued a brief statement that reads, "In the recently distributed calendar included in the Warner Bros. 90th Anniversary press kit, there was an erroneous mention of an Extended Edition release for The Hobbit film. This product has not been confirmed yet and we apologize for any confusion."
It's hard to imagine that someone made up the existence of an extended edition of The Hobbit: An Unexpected Journey. While I'm confident that at one time this title was under serious consideration, I'm not convinced it still has a green light.
The construction of this calendar could have been complete months ago, long before Warner Bros. and Peter Jackson decided to break two Hobbit films into three. At least two hours of additional footage will be required to piece together the third film. After that's done, how much footage will actually be left?
I have a hard time imagining Warner Bros. would rush out an extended edition of The Hobbit: An Unexpected Journey before the second and third films make their theatrical debut. If people know extended editions will be released less than six months after the theatrical editions, sales for those theatrical cuts will not be as high as they could be.
For now all we can do is wait until well into 2013 before knowing for sure whether Warner Home Video will release The Hobbit: An Unexpected Journey Extended Edition on Blu-ray.