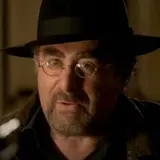 Summer is creeping up, and for Syfy that means the return of its most successful original show and gleaming symbol of the rebranding effort a few years back, 'Warehouse 13.'
Syfy has released the first teaser TV spot for 'Warehouse 13' Season 3 with it answered a few lingering questions from the season 2 finale in which Myka (Joanne Kelly) left the secret government team. The scant few seconds of new footage confirm Pete (Eddie McClintock) will get a new partner, at least initially. Obviously he isn't thrilled about this.
There's also a split-second glimpse of H.G. Wells (Jaime Murray), the fan favorite villainess whose fate the writers love to leave dangling whenever they can. If H.G. isn't a part of season 3 then fans are going to take issue with whoever cut this spot.
'Warehouse 13' Season 3 will premiere Monday, July 11 at 9/8 central.