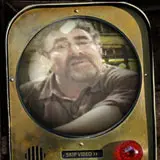 Warehouse 13 has been running strong since its premiere signaled the Sci-Fi Channel evolving into SyFy on July 7. For its outstanding performance, the network has ordered up a second season to seek out and locate additional artifacts with mysterious powers.
The news comes via Variety who claims Warehouse 13 is the most successful show thus far in Syfy's 17-year history. That includes the first season of Ron Moore's Battlestar Galactica.
A big reason for Warehouse 13's success, aside from its embracing of sugary cookies as the perfect snack, is its female viewership. Approximately half of the 3.7 million weekly viewers are women which means either male star Eddie McClintock is becoming a sex symbol, women are loving the quirky warehouse curator played by Saul Rubinek, or women really don't mind science fiction.
Whichever the case, a minimum of 13 episodes have been ordered for season two. That number could potentially increase, much in the same way Battlestar's did in subsequent seasons when more viewers jumped in. That opportunity will come with the release of season one on DVD and likely Blu-ray Disc which will introduce the warehouse to an extended audience.