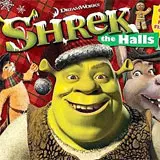 Walmart.com has added a new Blu-ray listing for Shrek the Halls, what would be the second appearance for the green ogre on Blu-ray. The Dreamworks Home Entertainment title per the listing is slated for October 31.
Shrek The Halls is a TV special that aired in late 2007 featuring the voices of Mike Myers, Eddie Murphy, Cameron Diaz and Antonio Banderas. It only runs a half hour so we'd expect some supplemental material to fill out space on the disc.
We've tentatively added Shrek The Halls to the Blu-ray Future Releases section pending an official announcement from the studio.
Discuss (or bash) the arrival of Shrek the Halls on Blu-ray in the HDR Forums.