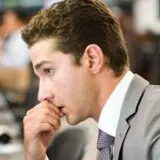 Fox will release the 2010 sequel Wall Street: Money Never Sleeps in a Blu-ray Disc Collector's Edition and DVD on December 21, just in time to let Gordon Gekko into your homes for Christmas.
Wall Street: Money Never Sleeps stars Michael Dougles, Shia LaBeouf and Carey Mulligan in a new tale of greed and power that coincides with the release of Gordon Gekko from prison. It earned over $129 million at the worldwide box office, $52.2 million coming from the U.S.
The Blu-ray edition is packed with bonus content. In fact, everything except the commentary, conversation and digital copy listed below is exclusive to Blu-ray.

Pre-order Wall Street: Money Never Sleeps on Blu-ray for $35.99 at Amazon.com.