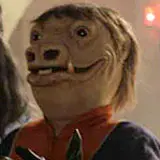 Volkswagen got a head start on their Super Bowl advertising blitz in 2012 with 'The Bark Side,' a followup to last year's Darth Vader child spot that won the world over. It was released roughly a week ago and features a choir of dogs barking out the 'Imperial March' from Star Wars: The Empire Strikes Back.
If you thought this was the car manufacturer's only foray into Star Wars during the big game, think again.
Volkswagen has rebuilt part of the set for the Star Wars Cantina that will serve as the setting for their second Star Wars-themed Super Bowl ad. And they have filled it with some of the familiar characters that hung out in the bar situated in a space port labeled as a "wretched hive of scum and villainy."
Rather than showcase Greedo or Walrusman, the two most identifiable aliens from the Cantina sequence, Volkswagen is putting gnarly alien Snaggletooth in the spotlight. If you don't remember who is he, take a look at the still from the Super Bowl ad below:
Here's some Star Wars trivia for you. The two ladies standing behind Snaggletooth are known as the Tonnika Sisters. Kenner/Hasbro action figures of the ladies have never been made due to some sort of licensing/legal mess with the actresses playing the non-speaking roles that has been ongoing since the film was released.
By included new actresses dressed up as characters resembling the twins, Hasbro may have accidentally – or deliberately – stumbled into a legal loophole then can take advantage of to create little 4″ plastic versions of the female Cantina denizens.
Source: CNN