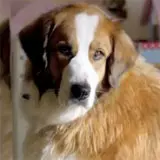 Volkswagen has a tall order in front of them in trying to match last year's "The Force" Super Bowl ad by once again tapping into Star Wars and an unlikely hero.
The full version of this year's ad is called "The Dog Strikes Back" and features a not-so-fit mutt determined to keep pace with his owner's Volkswagen car as it speeds away from the house. To pull off the feat of squeezing through the doggie door and giving chase without keeling over, he engages in a serious of humorous physical and mental exercises.
When it looks like the Volkswagen Super Bowl ad is about to end, the camera pulls back revealing a recreation of the infamous Star Wars Cantina. Here many of the aliens featured in the original film are present. Only rather than Obi-Wan stepping in to put an unruly denizen in line, Darth Vader makes his presence felt.
Do you think Volkswagen matched, exceeded or came up short with "The Dog Strikes Back" and its teaser, "The Bark Side," after comparing it to last year's "The Force?" The same company, Deutsch LA, created both spots, and began working on concepts for this ad as soon as last year's Super Bowl concluded.
Personally, I would have brought back the Darth Vader kid for an encore performance.