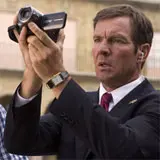 Online retailer Amazon.com has surprisingly slashed the price of Vantage Point on Blu-ray Disc, a title not due in stores until July 1.
The thriller starring Dennis Quaid carries an SRP of $39.99 and had been selling as a pre-order for $27.95, which is typical pricing for Amazon.com.
This new price cut has seen Vantage Point's price drop all the way down to $17.95, an overall cut of 54% or $21.01 off list price. The last time an unreleased new theatrical title carried pricing this aggressive was Warner's I Am Legend back in March.
Pre-order Vantage Point on Blu-ray for only $17.95 from Amazon.com.
Vantage Point on Blu-ray will be presented in widescreen 2.4:1 1080p video and 5.1 Dolby TrueHD audio.
Extra features are near identical to what's included on the DVD version with the exception of a Blu-ray exclusive GPS Tracker. This feature will allow viewers to pick a "witness" character and follow their vantage point throughout the film. The remaining supplementals are as follows.
Coordinating Chaos: Stunts featurette
Commentary with Director Pete Travis
An Inside Perspective: Interviews with the Cast and Crew
Plotting an Assassination featurette
Surveillance Tapes: Outtake