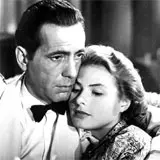 Update: Cover art added.
Warner Home Video has announced the latest previously HD DVD exclusive coming to Blu-ray Disc is Casablanca, scheduled for an Ultimate Collector's Edition update on December 2.
The two-disc set is packaged in an "intricate laser-cut Moroccan design" box and loaded with goodies such as reproductions of executive memos and props, a branded passport holder, luggage tag, photo book and mail-in offer for a movie poster. The memos and props include the following:
Memo from Hal Wallis that Casablanca is the new title
Memo from Wallis to Jack Warner strongly urging casting of Bogart over
Letter from Publicity head Charles Einfeld to publicist Marty Weiser to "sell" Bogart as a romantic lead
Victor Laszlo's "letter of transit"
Over seven hours of supplemental features are packed onto the disc as outlined below.
Behind the Story

Introduction by Lauren Bacall
Commentary by film critic Roger Ebert
Commentary by film historian/author Rudy Behlmer
1988 TCM special: Bacall on Bogart [Laurel Bacall's candid and moving reminiscences about her husband's life and career]
You Must Remember This: A Tribute to Casablanca [Bacall hosts this spellbinding backstage tour]
As Time Goes By: The Children Remember [Stephen Bogart and Pia Lindstrom remember their parents, Humphrey Bogart and Ingrid Bergman]
Production history gallery

Additional Footage

Deleted scenes
Outtakes
Who Holds Tomorrow? Premiere episode from the 1955 Warner Bros. Presents series, starring Charles McGraw
1995 WB Cartoon: Carrotblanca

Audio

Scoring Stage Sessions
Knock on Wood Alternate Version, Wilson with Piano
As Time Goes By Part One Alternate Take, Wilson with Piano
As Time Goes By Part One Film Version, Wilson with Piano
Rick Sees Ilsa Instrumental Medley
As Time Goes By Part Two Alternate Take, Wilson with Piano
As Time Goes By Part Two Film Version, Wilson with Piano
At La Belle Aurore Instrumental Medley
Dat's What Noah Done Outtake, Wilson with Piano
April 26,1943 Screen Guild Players Radio Broadcast

Trailers

Theatrical trailer
1992 re-release trailer

1993 documentary: Jack L. Warner: The Last Mogul
We expect the technical specs to be identical to the previously released HD DVD which were a widescreen 1.37:1 1080p transfer and Dolby Digital Plus 1.0 audio.
Casablanca: Ultimate Collector's Edition on Blu-ray will carry an SRP of $64.99. Check back regularly for pre-order information and high-res cover/box art.
Are you willing to pay over $50 for Casablanca on Blu-ray? Chime in with your opinion in the HDR Forums.