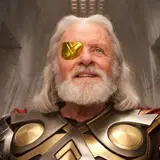 Paramount and Marvel today announced that the Thor Blu-ray 3D, 2D and DVD release date is September 13. They also shared the cover art for all versions (updated to bigger versions below) and a snapshot of the bonus features.
Thor will mark Paramount's first retail release of a Blu-ray 3D title after roughly a year of dishing out hardware-exclusive hits like How to Train Your Dragon and the Shrek films. The Blu-ray 3D version of Thor will also include the Blu-ray 2D, DVD and digital copies, as well as unique cover artwork.
Each version of Thor on Blu-ray will include around 80 minutes of bonus features. They will include, but are not limited to, a feature that delves deep into the Marvel Universe, The Avengers sneak peek, a featurette on director Kenneth Branagh and more.
Thor stars Chris Hemsworth, Natalie Portman, Kat Dennings, Anthony Hopkins, Tom Hiddleston, Stellan Skarsgard, Clark Gregg and Idris Elba.
Click here to pre-order Thor on Blu-ray 3D for $31.99 at Amazon.com.
Click here to pre-order Thor on Blu-ray for $24.99 at Amazon.com.