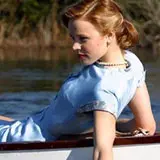 Update: A "beauty" shot of the contents has been added.
Warner Home Video has announced The Notebook starring Ryan Gosling and Rachel McAdams is coming to Blu-ray Disc on January 20 in a limited edition giftset package, day-and-date with DVD.
The Notebook will be presented in widescreen 2.35:1 1080p video and an unknown 5.1 audio format, likely either Dolby Digital or Dolby TrueHD.
Supplemental features are not available at this time; however, we do know the physical value add pack-ins that will be identical between the DVD and Blu-ray sets.
Photo album and scrapbook with images from the movie plus space for your own photos
Scrapbook accessories such as stickers and photo corners
Stationery set with letterhead and envelopes and collectible bookmarks
The Notebook: Limited Edition Giftset will carry an SRP of $39.99. Check back regularly for high resolution cover art, extra features and pre-order information.