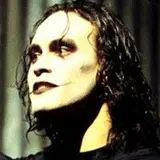 Update: The Crow Blu-ray cover art has been added below.
Original article (July 25, 2011): The Crow on Blu-ray is set to make its North American debut on October 18 as part of Lionsgate's distribution deal with Miramax.
Brandon Lee made his final on-screen performance in The Crow, which was directed by Alex Proyas (Dark City). Lee was killed in an on-set accident in 1993 when a prop gun was improperly set up and loaded with makeshift dummy cartridges.
The Crow on Blu-ray will include an audio commentary with producer Jeff Most and screenwriter John Shirley, a behind-the-scenes featurette, extended/deleted scenes, and storyboards and photo galleries. Tech specs aren't available, but you can bet Lionsgate and Miramax will make sure the soundtrack from The Cure, Stone Temple Pilots, Rage Against the Machine and others is not compromised.
SRP for The Crow on Blu-ray is set at $19.99. Look for cover art and Amazon's pre-order link to be added shortly.