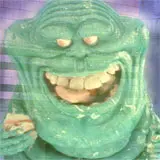 Update: We've added a small image of what the cover art should look like for the Ghostbusters 1 & 2 set now confirmed to include BD-Live and other Blu-ray interactive features. At this time there is no indication the Ghostbusters films will be available separately.
Sony Pictures Home Entertainment has a Blu-ray booth at Comic-Con in San Diego that is advertising Ghostbusters and Ghostbusters II are coming to Blu-ray on October 21.
Ghostbusters has been long rumored for a 2008 Blu-ray bow to coincide with the cross-media sequel, Ghostbusters: the Videogame, releasing this fall. You can check out some screens from the Playstation 3 and Xbox 360 version that reunite the original team for the first time in two decades right here.
Sony has yet to issue a statement or press release confirming these two titles but we hope to see something by next Monday.
We also expect to see a two-pack made available at at least Amazon.com, if not other retailers as well. In fact, Amazon already has a placeholder up for just that.
We've added Ghostbusters and Ghostbusters II to HDR's Future Blu-ray Releases pages.
Keep your eyes peeled for more Ghostbusters news on the Blu-ray and videogame front in the weeks ahead.