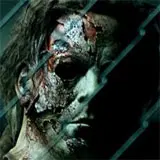 Updated: The Blu-ray edition will feature a new unrated cut as well as the theatrical version. The DVD version will not include the unrated cut.
Sony Pictures Home Entertainment will release Rob Zombie's HalloweenII (or Halloween 2 or H2) on Blu-ray Disc and DVD January 12 following a successful $80 million worldwide box office run.
The slasher sequel starring Malcolm McDowell, Tyler Mane, Sheri Moon Zombie, Brad Dourif, Danielle Harris and Scout Taylor-Compton will make its way to Blu-ray in its original 1.85:1 framed aspect ratio with 5.1 DTS-HD Master Audio.
Sony will include BD-Live connectivity and movieIQ on the disc along with the following bonus features:
Commentary with Writer/Director Rob Zombie (BD exclusive)
Deleted and Alternate Scenes
Blooper Reel
Audition Footage
Michael – Interior
Uncle Seymour Coffins' Stand-Up Routines
Captain Clegg and the Night Creatures Music Videos
Click here to pre-order Halloween 2 on Blu-ray for the discounted price of $26.99 at Amazon.com.