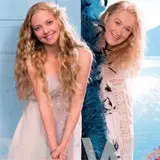 Update: An official announcement has been made by the studio which fills out the extra features, detailed below, and confirms a slipcover and second disc with a digital copy will be included.
Universal Studios Home Entertainment will release the $140 million box office hit Mamma Mia! The Movie December 16 on Blu-ray Disc, day-and-date with DVD.
Mamma Mia! will be presented in widescreen 1080p video and 5.1 DTS-HD Master Audio.
A new twist is being put on commentaries with a Blu-ray exclusive sure to turn heads. With Mamma Mia!, it will be possible to record a video commentary while watching the film and then share that commentary with friends.
There are some missing details to how this creative use of Blu-ray's abilities will work. First, we assume any standard web cam will work with a standalone player and the Playstation Eye with PS3 but nothing has been confirmed. Second, will the commentary replay be a standalone video or play picture-in-picture with the film? We don't know yet.
In addition to BD-Live access and U-Control, other confirmed features are as follows with more to be announced.
U Control – Picture-in-Picture
U Control – Behind the Hits
Play with Sing-Along
Deleted Scenes
Outtakes
Deleted Musical Number: "The Name of the Game"
The Making of Mamma Mia!
Anatomy of a Musical Number: "Lay All Your Love on Me"
Becoming a Singer
A Look Inside Mamma Mia!
"Gimme! Gimme! Gimme!" Music Video
Bjorn Ulvaeus Cameo
Feature Commentary with Director Phyllida LLoyd
BD Live – My Scenes Sharing
BD Live – Downloadable Content
BD Live – My Chat
BD Live – My Mamma Mia! Commentary
Digital Copy (disc two)
Mamma Mia! The Movie on Blu-ray will carry an SRP of $39.98. Check back regularly for more details, high-res cover art and pre-order information.
Discuss Mamma Mia! The Movie's arrival on Blu-ray in a dedicated HDR Forums thread.