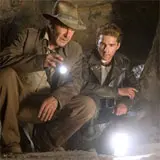 Updated: Back cover art has been added at the bottom of the article.
Paramount Home Entertainment has announced Indiana Jones and the Kingdom of the Crystal Skull is coming to Blu-ray Disc on October 14, day-and-date with DVD. With this news those rumors pegging a November 11 bow can finally be put to rest.
The fourth Indiana Jones film and first on Blu-ray will be presented in widescreen 1080p video and THX-Certified 5.1 Dolby TrueHD audio.
Extra features are mostly presented in high definition requiring a second disc, but none appear to be exclusive to Blu-ray. The extensive compilation is as follows.
Disc One
Indiana Jones Timelines— Explore the movie through interactive timelines that include video featurettes, in-depth information and unique imagery. Your adventure begins with one of these three timelines:

Story Timeline: Showcases the key events of the Kingdom of the Crystal Skull storyline.
Production Timeline: A Making-of chronology for Kingdom of the Crystal Skull.
Historical Timeline: Dives into the real-world historical influences that are referenced in the film.

The Return of a Legend—The evolution of the new film and a tribute to the legendary hero and his creators. (HD)
Pre-Production—Follows Steven Spielberg as he creates animatic sequences, Shia LaBeouf as he learns to swordfight and captures the reunion of filmmakers and cast on the soundstage. (HD)

Disc 2

Production Diary: Making Kingdom of the Crystal Skull—Join filmmakers, cast and crew for a complete look at the making of the film.

Shooting Begins: New Mexico (HD)
Back To School: New Haven, Connecticut (HD)
Welcome to the Jungle: Hilo, Hawaii (HD)
On-Set Action (HD)
Exploring Akator (HD)
Wrapping Up! (HD)

Warrior Makeup (HD)
The Crystal Skulls (HD)
Iconic Props (HD)
The Effects of Indy (HD)
Adventures in Post Production (HD)
Closing: Team Indy (HD)
Pre-Visualization Sequences

Area 51 Escape (HD)
Jungle Chase (HD)
Ants Attack (HD)

Galleries

The Art Department

The Adventure Begins
Cemetery and Jungle
Akator

Stan Winston Studio

Corpses, Skeletons & Mummies
Aliens & Crystal Skulls
Production Photographs
Portraits
Behind-the-Scenes Photographs
Indiana Jones and the Kingdom of the Crystal Skull on Blu-ray will carry an SRP of $39.99.
Online retailer Amazon.com has already begun taking pre-orders for Indiana Jones and the Kingdom of the Crystal Skull on Blu-ray at the discounted rate of $27.95. You can secure your copy at Amazon by clicking here.