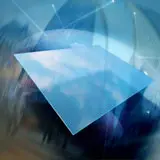 Those of you with small children who have no appreciation for keeping their hands off your multi-thousand dollar high definition television set will wish Gorilla Glass was already available. Why? Because the Corning invention that been around for decades is seemingly impervious to scratches or other surface defects and is also stronger than traditional glass to any kind of breakage.
Gorilla Glass' obscurity is all about to change. According to a recent announcement by Corning, production is ramping up and the manufacturer hopes to secure a deal with a television hardware maker by this fall. If they succeed, the first high definition television sets (2D and 3D) will hit the market a little over a year from now.
The downside to Gorilla Glass is that it is expected to add an additional $60 per television set. That may seem steep for someone who hates purchasing extra warranties for their hardware, but for someone who has already experienced their kid taking a pen to a television set, it's a steal.
Source: Yahoo!