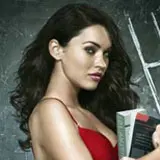 Fox has unwrapped the details surrounding the December 29 debut of Jennifer's Body starring Megan Fox on Blu-ray Disc and DVD. The film, Megan's first solo leading role, underperformed theatrically but should draw a huge male crowd on home video.
Expect Jennifer's Body on Blu-ray to swoop into your home in 1.85:1 framed 1080p video and 5.1 DTS-HD Master Audio.
In a move that heavily favors Blu-ray, the only bonus features shared between DVD and Blu-ray will be a pair of audio commentaries. Everything else listed below is exclusive to Blu-ray.
Audio Commentary with Director Karyn Kusama and Writer Diablo Cody on theatrical version
Audio Commentary with Director Karyn Kusama on unrated version
Deleted Scenes

Dead Boys
Jennifer Check Is Gross
Needy Confronts Jennifer
Who's Cindy Crawford?
Needy Faces The Band
Ass, Gas or Grass…

Gag Reel
Jennifer's Body: The Dead Pool
Video Diaries

Megan Fox and Johnny Simmons
Amanda Seyfried
Diablo Cody
Dan Dubiecki

Megan Fox Is HOT
Megan Fox "Peer Pressure" PSA
Fox Movie Channel Presents 'Life After Film School' With Writer Diablo Cody
Digital copy on disc two
Click here to pre-order Jennifer's Body on Blu-ray at a discounted price from Amazon.com.