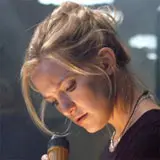 A pair of catalog thrillers will make their Blu-ray Disc debut on September 7 in the form of 2005's The Skeleton Key with Kate Hudson and 2006's The Black Dahlia with Josh Hartnett, Scarlett Johansson, Hilary Swank and Aaron Eckhart.
Both films will be offered in 1080p video and 5.1 DTS-HD Master Audio. There is no definitive word on bonus features from Universal at this time, though a safe bet is to expect the selection DVD to be ported onto these new releases.
Check out the Blu-ray cover art for The Black Dahlia and The Skeleton Key below and look for pre-order links in the coming days.