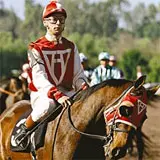 The fifth and final former HD DVD Universal catalog title announced today for a May 26 release on Blu-ray Disc is none other than the horse racing $120 box office hit Seabiscuit.
Seabiscuit will ride onto Blu-ray in its original 2.35:1 1080p aspect ratio with 1080p resolution and 5.1 DTS-HD Master Audio.
Universal is hoping to target Playstation 3 owners with Seabiscuit with the inclusion of a PS3 controller guide and other BD-Live goodies. The remaining bonus features were all previously available on HD DVD.
User Guides – My Scenes, Registration, BD-Live
Playstation 3 Controller
BD Live
Bringing the Legend to Life: The Making of Seabiscuit
Anatomy of a Movie Moment
Seabiscuit: Racing Through History
Photo Finish: Jeff Bridges' On the Set Photographs
Seabiscuit vs. War Admiral, The 1938 Match Race
Winners' Circle: The Heroes Behind the Legend
The True Story of Seabiscuit
HBO First Look
Feature Commentary with Director Gary Ross and Filmmaker Steven Soderbergh
With an SRP of $29.98, Seabiscuit will set you back roughly $21 when it goes up for pre-order at Amazon.com. You can check out the high-res cover art by clicking through the disc details below.