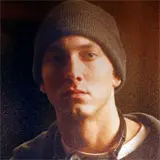 Universal Studios Home Entertainment has re-scheduled 8 Mile for its Blu-ray debut on April 14.
The Eminem biopic was originally scheduled to be released on Blu-ray Disc last November 18 before Universal pulled it from their schedule shortly before that date.
Comparing the specs between the original announcement and the April 14 version reveals no differences. Why 8 Mile was delayed 5 months will remain a mystery.
Recapping the specs, 8 Mile will be presented in widescreen 1080p video and 5.1 DTS-HD Master audio. A slim selection of bonus features reads as follows.
My Scenes
The Making of 8 Mile
Exclusive Rap Battles – Uncensored
Superman Music Video – Uncensored
High resolution cover art for 8 Mile can be viewed by clicking through the disc details below. Click here to pre-order 8 Mile on Blu-ray at Amazon.com.