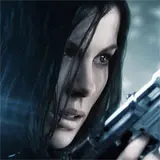 Underworld: Awakening marks the fourth film in the Underworld franchise and returns Kate Beckinsale to her most recognizable role after sitting out the third film, Underworld: Rise of the Lycans. After debuting theatrically in January, Underworld: Awakening will come to Blu-ray 3D, Blu-ray and DVD on May 8.
Underworld: Awakening grossed $62.32 million at the North American box office, well above the $45.8 million put up by Underworld: Rise of the Lycans and right on par with the almost identical to the $62.31 million Underworld: Evolution made back in 2006. Underworld: Awakening is the highest grossing film in the franchise thus far thanks to the return of Beckinsale and the addition of 3D.
The Blu-ray 3D and Blu-ray versions of Underworld: Awakening will be presented in 1080p video and 7.1 DTS-HD Master Audio. Look for these bonus features in each package:
Filmmakers' Commentary
Selene Rises
Casting the Future of Underworld
Resuming the Action
Building a Better Lycan
Previsualization Sequences
Awakening a Franchise, Building a Brutal New World
Previsualization Sequences Menu Text
Blooper Reel
"Heavy Prey" Music Video by Lacey Sturm feat. Geno Lenardo
Click here to pre-order Underworld: Awakening on Blu-ray 3D for $31.99 at Amazon.com, 30% off the $45.99 list price.
Click here to pre-order Underworld: Awakening on Blu-ray for $24.99 at Amazon.com, 31% off the $35.99 list price.