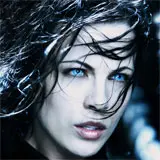 ShockTillYouDrop has received a tip indicating Sony's Screen Gems is moving forward with a fourth film in the Underworld series that will target a January 2011 release.
The last film, Underworld: Rise of the Lycans, was set in the past with newcomer Rhona Mitra joining Michael Sheen, soon to appear in The Twilight Saga: New Moon as a vampire, and Bill Nighy. The fourth film could continue where that left off with Kate Beckinsale or fast forward to include Beckinsale and Scott Speedman from the first two films.
Sony intends to shoot Underworld 4 in 3D, a first for the series that should impact how the action sequences are designed. I'd place the odds of a vampire or Lycan trying to bite the audience at around 100%.