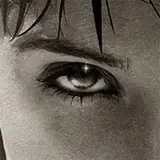 Disney and Jerry Bruckheimer's hopeful blockbuster Prince of Persia: The Sands of Time is poised to be unveiled at Comic-Con later this week. To kick off the early publicity, Disney has sent Empire Online a sneak peek at two of the teaser one-sheet Prince of Persia movie posters.
The first poster features Jake Gyllenhaal as Prince Dastan striking an action pose. The second poster is of Gemma Arterton as Princess Tamina who must team up with Dastan to stop an evil threat from reversing time to rule the world.
The poster imagery is quite striking in sepia tone with the color red accentuated. The blocky font, however, leaves much to be desired. It looks like something more appropriate for a magazine cover than an epic adventure set in the past.
Because these posters were sent to Empire Online (based out of London) they may differ from what we get here in North America. We should find out either way soon enough.
Prince of Persia: The Sands of Time, which co-stars Ben Kingsley and Alfred Molina, is scheduled for release on May 28, 2010.