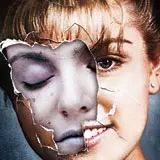 The debut of David Lynch and Mark Frost's Twin Peaks on Blu-ray has been brewing for years, and finally on July 29 of this year, it will arrive from CBS Home Entertainment in a lavish and packed box set titled, Twin Peaks: The Entire Mystery.
The reason this Twin Peaks Blu-ray box sets it labeled "The Entire Mystery" is because not only does it include both seasons of Twin Peaks, but also the prequel film Twin Peaks: Fire Walk with Me and a host of bonus features, including 90 minutes of deleted and alternate scenes from Fire Walk with Me that fans have been clamoring for as well as the U.S. and international versions of the Twin Peaks pilot.
The Twin Peaks Blu-ray experience doesn't stop there. Lynch had a direct hand in the creation of the set including overseeing a 4K scan restoration of Fire Walk with Me from the original film negative and directing the Fire Walk with Me deleted and alternate scenes. Says Lynch about the new footage, "During the last days in the life of Laura Palmer many things happened, which have never been seen before. They're here now alongside the new transfer of Twin Peaks: Fire Walk With Me and Twin Peaks, the television series."
Click here to pre-order Twin Peaks: The Entire Mystery on Blu-ray for $90.99 at Amazon.com, 30% off the $129.99 list price.
Twin Peaks: The Entire Mystery on Blu-ray will span 10 discs and be presented in 1080p video and 7.1 DTS-HD Master Audio and also include the original 2.0 stereo mix, further proof that CBS Home Entertainment spared no expense in compiling this set. The bonus features are also extensive including all-new pieces as well as pre-existing extras from the previously released DVD set that have been remastered in HD.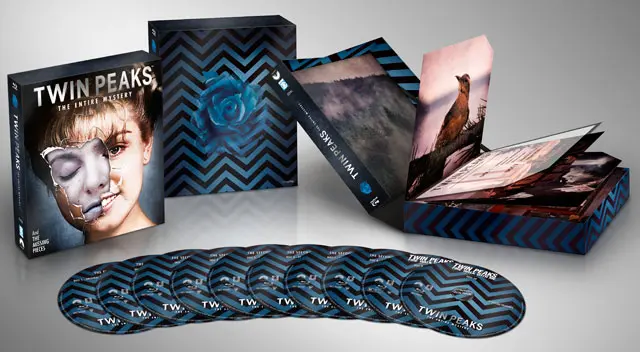 Below are a partial list of bonus features with many more also included from all the previous releases of Twin Peaks on home video including featurettes, cast and crew interviews, promotional reels, previews and recaps, production documents, international and domestic trailers, archival deleted scenes and much more.
NEW Between Two Worlds – Lynch himself interviews the Palmer family (Leland, Sarah and daughter Laura) about their current existence in this life and the next, and follows up with a discussion with the actors who portray them.
NEW Moving Through Time: Fire Walk With Me Memories – Exclusive retrospective documentary featuring interviews with cast and crew who recount the making of the Twin Peaks movie and working with David Lynch.
NEW Log Lady episode introductions – Transferred from recently unearthed 16mm film negative in HD
NEW Three Twin Peaks photo galleries – Over 130 behind-the-scenes images from David Lynch's personal never-before-released collection
NEW Atmospherics – 10 vignettes of iconic Twin Peaks themes featuring a unique montage of music, dialogue and video (including some rare outtakes) that appear as both menu backgrounds and as their own textless experience to further immerse fans in the mysterious world of Twin Peaks.
Secrets From Another Place: Creating Twin Peaks – Four-part documentary now available in HD
A Slice of Lynch – Newly extended and featuring the complete and uncut conversation between David Lynch and actors Kyle MacLachlan and Madchen Amick.
Check out the Twin Peaks: The Entire Mystery Blu-ray cover art, a The Missing Pieces Preview video, and an image of David Lynch with boxes of Twin Peaks stuff below.