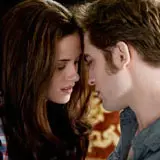 Update: Amazon.com has begun taking pre-orders for The Twilight Saga: Eclipse on Blu-ray and DVD. Click here to reserve the Twilight Eclipse version of your preference.
My previous The Twilight Saga: New Moon speculative Blu-ray Disc and DVD release date turned out to be off the mark, most likely due to the film's extended theatrical run.
According to VideoETA, Summit Entertainment has alerted retailers that The Twilight Saga: Eclipse Blu-ray and DVD release date is Saturday, December 4. The Saturday release date follows in the footsteps of Twight and The Twilight Saga: New Moon. The reason of course is to throw big midnight relese parties on Friday night.
The expected bonus features for the Blu-ray version are as follows:
2 Audio Commentaries: one with Rob Pattinson & Kristen Stewart; the other with Stephenie Meyer
Deleted and Extended Scenes
Photo Gallery
6-Part Making of Documentary
Jump to… Your favorite scenes
Music Videos
BD Exclusive: PIP Commentary
Eclipse on Blu-ray will be available in a two-disc special edition set with the aforementioned bonus features at an SRP of $40.99, and a movie-only release at $34.99. The DVD version shares the same configuration.
Check out the Blu-ray Eclipse cover art below and check back soon for the Amazon.com pre-order link.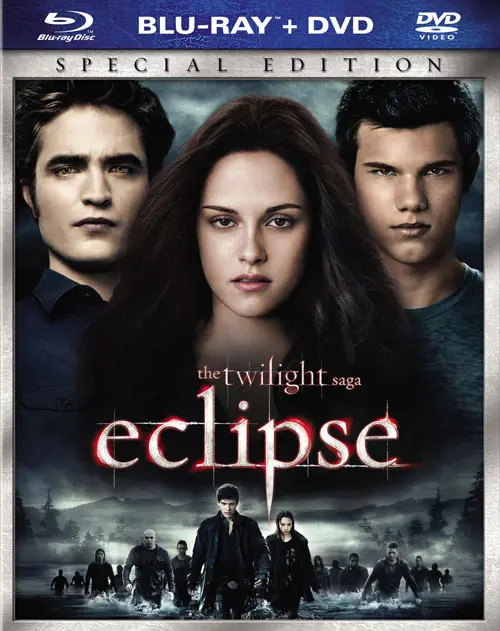 Source: VideoETA
Original article: Summit's The Twilight Saga: Eclipse has come and gone from theaters and will next make a stop on Blu-ray Disc and DVD later this year. Its arrival is imminent, but a release date is being kept under wraps until an official announcement from the studio is made.
Summit may have already tipped their Twilight hand in a trade ad that popped up this week. On October 19, single-DVD versions of Twilight and The Twilight Saga: New Moon will be made available at retail for the first time. See where this is going?
October 19 is nearly four months after Eclipse began its theatrical run and falls neatly a week or so before Halloween. Coupled with what appears to be a cross-promote of the previous two Twilight films and I'm fairly confident in speculating that Eclipse will invade stores the same day.
I will of course share the confirmed date and all the disc details when they are available.