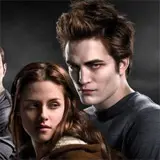 The first official Summit Entertainment synopsis from for The Twilight Saga: Breaking Dawn – Parts 1 and 2 has made its way to the web via Collider.
The synopsis comes from a photograph taken at the American Film Market (AFM). There's nothing new in it for Twilight faithful whom have likely read each book in the series cover-to-cover numerous times, but the strictly movie-only crowd may want to proceed with caution as several major plot revelations are divulged.
The synopsis reads, "The new found married bliss of Bella Swan (Kristen Stewart) and vampire Edward Cullen (Robert Pattinson) is cut short when a series of betrayals and misfortunes threatens to destroy their world…" (read the full synopsis)
The Twilight Saga: Breaking Dawn Part 1 will hit theaters on November 18, 2011. Part 2 is scheduled for a November 16, 2012 bow.