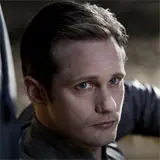 True Blood danced the line between cool and campy in last night's episode 'Burning Down the House' when Bill, Jessica, Eric and Nan showed up at Marne's hideout looking like they stepped off the set of The Matrix. Armed to the teeth including an RPG rocket launcher, the fearless undead foursome are out for witch blood no matter the cost.
That RPG will get fired directly at Marne by Nan according to the preview trailer for 'Soul of Fire,' next week's new episode of True Blood that marks the second-to-last in this season. The trailer also shows where Sookie, Tara and the others vanished to after Marne's spell, and it won't make the vampires' execution mission any easier.
Some of the other subplots are teased in the trailer as well. Sam's anger management issues are put to the test following the heroic/stupid death of Tommy. He's armed again, and we already know he's not afraid to pull the trigger.
Debbie, meanwhile, looks ready to take her flirting with wolf pack leader Marcus to the next level. Alcide could end up with some anger management issues of his own.
What could really turn the tables in the war between vampires and witches is the demon within Jesus. We caught a glimpse of it as Jesus broke through Marne's force field spell. The trailer brings back the demon complete with fire breathing power, likely what the episode's name is referring to.
Watch True Blood 'Soul of Fire' this upcoming Sunday at 9pm EST/PST on HBO.