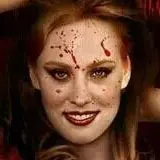 We are now a little over three weeks away from the True Blood Season 7 premiere and HBO is starting to spoon feed new details about the upcoming final season.
The latest bit of information from HBO falls squarely under the True Blood Season 7 spoilers category. The pay network has revealed the official synopsis for the first two episodes of the season, 'Jesus Gonna Be Here' and 'I Found You.'
When True Blood Season 6 wrapped up, the fate of Eric Northman was left hanging in the balance. Will Eric Northman (Alexander Skarsgard) be in Season 7? All indications based on remarks made by HBO prior to the season entering production point toward yes, and the second synopsis below confirms that Pam hasn't forgotten about her missing maker. Heck, even the episode #72 title 'I Found You' points toward the discovery of Eric, though I suspect he won't be in a good place physically or mentally when found.
Despite these clues, HBO also released a cast list for Season 7 to go along with the first two episode descriptions and Eric Northman/Alexander Skarsgard is noticeably absent from it. I suspect this is HBO trying to build suspense until Eric pops up at some point in the season.
The official cast list includes Sam Trammell as Sam, Ryan Kwanten as Jason, Rutina Wesley as Tara, Chris Bauer as Andy, Kristin Bauer van Straten as Pam, Amelia Rose Blaire as Willa, Lauren Bowles as Holly, Tara Buck as Ginger, Gregg Daniel as Rev. Daniels, Nelsan Ellis as Lafayette, Aaron Christian Howles as Rocky, Joe Manganiello as Alcide, Noah Matthews as Wade, Bailey Noble as Adilyn, Nathan Parsons as James (previously played by Luke Grimes), Adina Porter as Lettie Mae, Carrie Preston as Arlene, Jurnee Smollett-Bell as Nicole, Deborah Ann Woll as Jessica, and Karolina Wydra as Violet.
The first of 10 all-new True Blood episodes for Season 7 will premiere at 10/9c on Sunday, June 22.
Episode #71: 'Jesus Gonna Be Here'
Premieres: Sunday, June 22 at 10/9c
A band of rogue H-vamps crashes the vampire-human mixer at Bellefleur's, with shocking results. As Sookie (Anna Paquin) seeks refuge from accusations that she's somehow to blame for the chaos in Bon Temps, the "one vampire for every human" plan moves forward. In the face of a vigilante insurrection led by redneck Vince (Brett Rickaby), Bill (Stephen Moyer) receives aid from an unexpected source.
Episode #72: 'I Found You'
Premieres: Sunday, June 29 at 10/9c
A trio of hostages taken in the Bellefleur's attack looks to a familiar face as a possible liberator from the H-vamps. Sookie and Jason (Ryan Kwanten) visit the neighboring town of Saint Alice, where a young woman's diary offers clues to the potential fate of Bon Temps. Spurned by Lafayette (Nelsan Ellis), a desperate Lettie Mae (Adina Porter) turns to Willa (Amelia Rose Blaire) to channel her family past. Vince whips his fellow vigilantes into a dangerous frenzy. Pam's (Kristin Bauer van Straten) search for her maker leads her to a very familiar place.