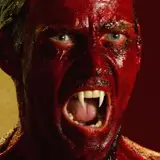 There are some things about True Blood: Season 6 that we can infer from the Season 5 finale. Jason is operating on the edge of sanity and sees a big bulls-eye on every vampire. Andy's got a quartet of half human/half faerie newborns that most likely will rapidly age. And Warlow will be outed, whether it's someone we already know or an all-new character (I suspect we have already met him).
What no one saw coming with the departure of Alan Ball was HBO's decision to trim Season 6 down to 10 episodes versus the 12 each previous season has been comprised of. In an (exit) interview with TV Guide, Ball dropped the bombshell news and claimed it was due to financial reasons and the impending birth of Anna Paquin's twins in November. As a result, production on True Blood: Season 6 will not get underway until January 2013.
Some other tidbits dropped by Ball include Alcide not being totally over Sookie just yet, Charlaine Harris' later books playing into the later season of the show, no one on the creative team knowing exactly what Bill or Lilith is just yet, Steve Newlin will be back, and Ball and his team have discussed potential end games for the series.
So starting next year, True Blood will go the way of Game of Thrones with 10 episode seasons. Fewer minutes to tell a season-long arc, plus Alan Ball stepping down for the time being, could translate into an entirely different True Blood experience next summer.
If you're impatient, Amazon.com is already taking pre-orders for True Blood: Season on Blu-ray and DVD. The price isn't set yet, and it won't be available to ship until next spring.
Source: TV Guide